Technology
Field buses are used in order to simplify the wiring and decrease the failure probability to minimum. Field buses shift input/outputs of the PLC with autodiagnosis up to the detector/ fingers.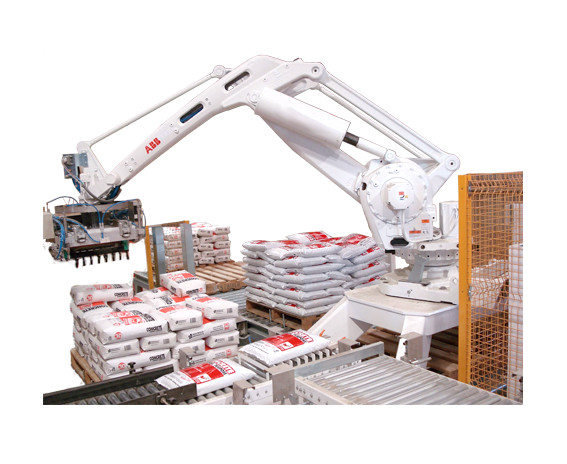 ROBOT-P
Palletizing robot
Used for loading bags one by one.
Suitable for simultaneous palletizing of more than one line or for palletizing bags with overlapping seams.
The Robot-P maximum production is from 700 to 800 sacks/hour.
This robot also can be used to depallet bags and feed them to a bag breaker.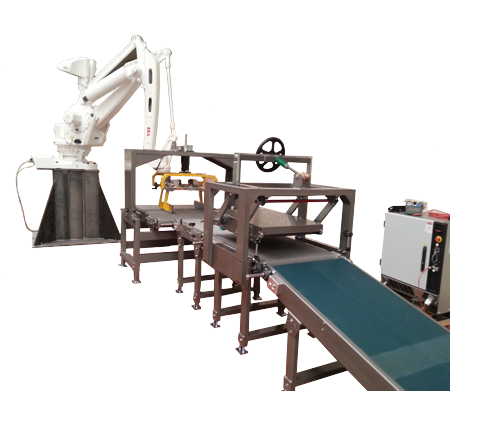 MULTIPLE TAKE ROBOT-P 
Multiple take robot
This robot improves definitely the palletizing quality of the robot getting close to layer palletizers.
It can charge up to 4 bags of 50 kilos at the same time and vary the quantity of them into the same palletizing program. For example: 2 + 3 + 2…
The machine is compound by a multiple take robot and a layered preform of a layered palletizer (bag turner included).
The production is up to 1.200 bags/hour on 50Kg.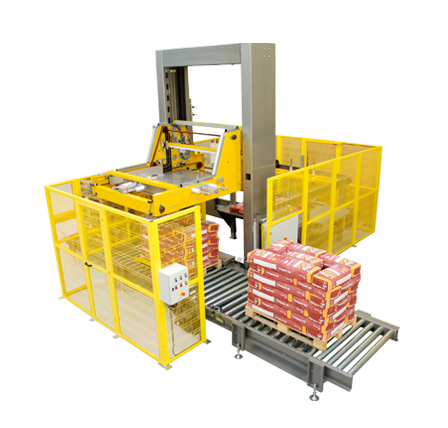 LAYER PALLETIZER
Low level layer palletizer
The highest quality of sacks palletizing.
The layers are formed at a height of 800mm above the ground.
Depending on the model, the lift is charged by lines or complete sacks layers.
The elevator carries complete layers of bags.
The production goes from 500, 700 or 900 bags/hour depending on the machine model or mosaic model.
Designed to work with layers of 300 kilos bags.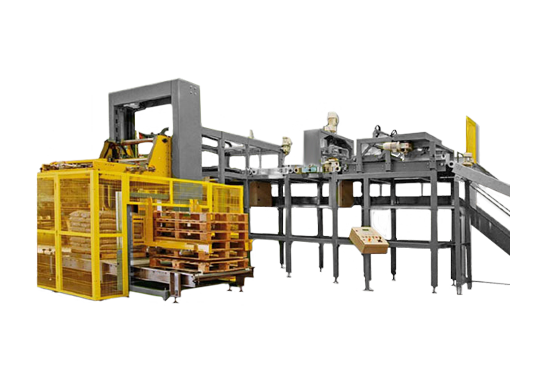 MIXED PALLETIZER
High level mixed modular palletizer
The variation with a low palletizer is that the preformer is high. Thanks to that, the bagging machine has not have to wait until the pallet is renewed.
Maintains the position of the palletizing the pallet in a height of 500mm above the ground and avoids the constant load and movement of the charged pallet.
Is the palletizer that suffers the least wear, since the machine never works in lifting movements with load. When the layer is loaded, it just drops.
The production with a single layer is up to 1.700 bags/hour.
The production with double layer is up to 2.200 bags/hour.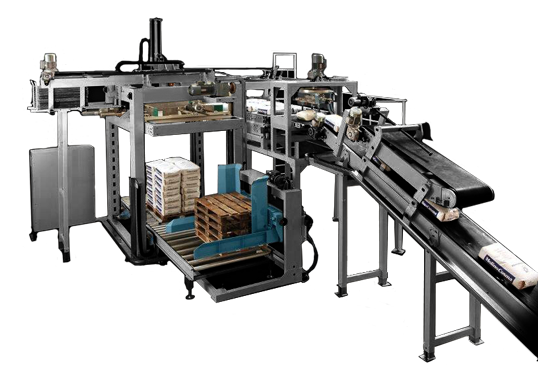 PALLETIZER
High level and pallet elevator palletizer
The machine enables to rich the maximum level of production since the movements in each layer of pallet are made continuously by the pallet elevator.
Very used for palletizing valve bags at high yields.
If high performance is required with a 180º bag turning for non-valved bags, as in the Doblepal, the double preformer can be installed; The two gripper turners of the preformer allow the bags to rotate at high speeds (90º, 180º, 270º), thereby improving the palletizing quality of the bags turners by "stop" system.
Up to 3.500 bags/hour.